Codeable Objects
Codeable Objects is a programing library that enables novice coders, designers, and artists to rapidly design, customize, and construct physical artifacts using geometric computation and digital fabrication. The methods employed allow the user to program a variety of structures and designs with simple code and geometry. When compiled, the framework generates tool paths based on the user's specifications, which can be used in conjunction with digital fabrication tools to build the object.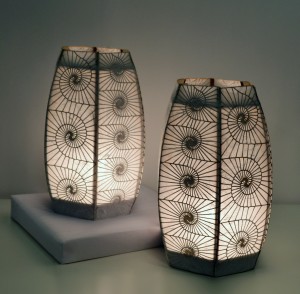 About Jennifer Jacobs and Leah Buechley
Jennifer Jacobs is a Master's Candidate in the High-Low Tech research group at the MIT Media Lab. Her research combines art–based approaches with emerging technologies to explore diverse, accessible forms of technological expression. Before coming to the Media Lab, Jennifer earned a BFA in Digital Art from the University of Oregon and an MFA in Integrated Media Art from Hunter College in Manhattan.
Leah Buechley is an Assistant Professor at the MIT Media Lab where she directs the High-Low Tech research group. She is a well-known expert in the field of electronic textiles (e-textiles), and her work in this area includes developing the LilyPad Arduino toolkit. Her research was the recipient of a 2011 NSF CAREER award and has been featured in numerous articles in publications including the New York Times, Boston Globe, Popular Science, and the Taipei Times. She received PhD and MS degrees in computer science from the University of Colorado at Boulder and a BA in physics from Skidmore College.