UPDATE: Slides and Videos are available linked from the speaker's name on the schedule page.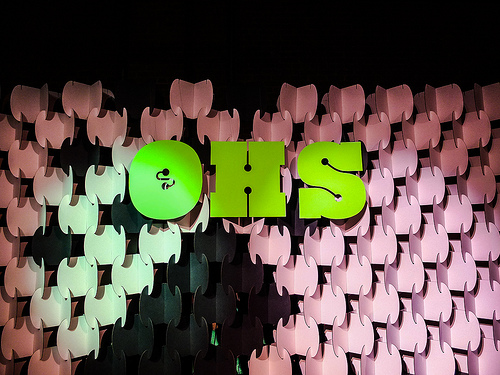 The OHS 2012 stage. Photo by Bill Ward.
WOW. It has been quite a year for open hardware. Thank you to all for attending, speaking, sponsoring, presenting demos and posters, and helping the 2012 Open Hardware Summit become such a huge success this year!
We will be posting In the mean time check out the photos in the Open Hardware Summit's flickr group and upload your own, and visit the ustream channel for the archived live video.
The Summit is completely volunteer run and non-profit. We couldn't have done it without our dream team and several last minute volunteers who stepped up to tasks we didn't expect! We are so fortunate to have an amazing community full of talented, giving people – please carry the excitement of the day with you into the following year.
Did you notice that the chairs spelled OH?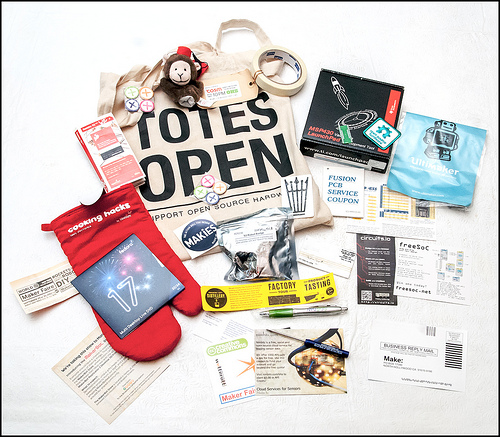 The wonderful swag bag provided by our sponsors. Photo by Johngineer.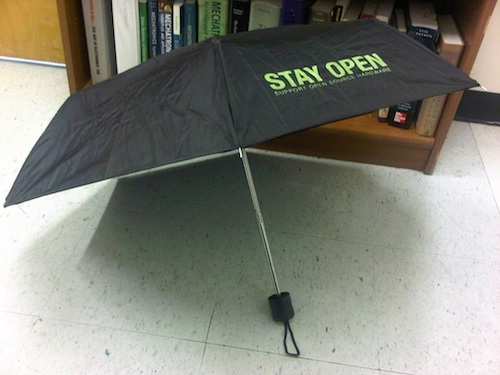 This year, our gift to OHS attendees was an umbrella, to shield you from the weather and remind you stay open even on rainy days 🙂