MNDR's MIDI Synced Rainbow Box
Electronic musician MNDR used an Arduino-powered light show for her month-long North American tour in early 2012. Creators Reid and Sean lit up audiences by putting 72 RGB LEDs inside a clear acrylic case that held MNDR's gear. This poster will outline an inexpensive electronics LED project in the context of a touring musician (making it road-worthy) and programming the Arduino to make an MIDI-controlled visual instrument that's easy to use.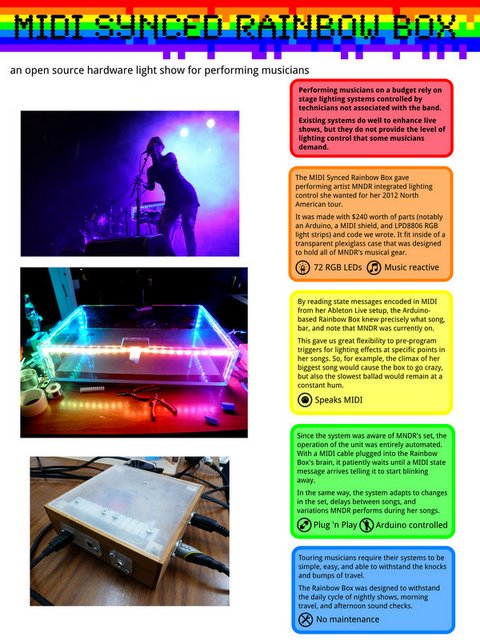 About Sean McIntyre and Reid Bingham
Sean McIntyre (boxysean) is a Canadian technologist and artist attending the Interactive Telecommunications Program (ITP) at New York University. He has presentedwork at Nuit Blanche New York, World Maker Faire, and Bent Festival.
Reid Bingham is a video and electronics artist who creates audio visual installations focusing on interactivity and audience participation. He has shown at the New York City Electroacoustic Music Festival, Bent Festival, and at galleries and museums in New Jersey, Washington D.C., New York City.