Opening Ed through Computational Craft: Designing Open Hardware for Educators with BOXES
BOXES (Building Open Expandable Electronic Systems) is a workshop, toolkit, and curriculum that introduces educators to a new approach to teaching and learning computational thinking and STEM concepts through craft. Armed with a toolkit of "soft," alternative materials, workshop participants created interactive paper boxes that can be combined to fashion unique environments, towering light and sound structures, or pixelated displays. The project includes a flexible curriculum designed to support educators and facilitate easy integration into a variety of different subjects, from physics to language arts.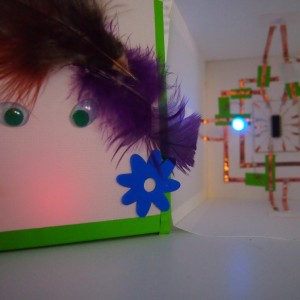 About Liza Stark
Liza Stark is a designer, artist, educator, and recent graduate of the MFA Design and Technology program at Parsons. She has developed curricula and given numerous workshops to a range of ages on soft circuits, e-textiles, computational craft, and more with the goal of making computational literacies accessible to all.