Sparkling Science
 Change is bacon. We all crave it. At Sparkling Science we support change by impact, while also having fun along the ride and taking great pride in our work.  In all we do we strive to be global, inclusive and radically open. Sparkling Science is a platform for inter-hackerspace collaboration. A place to show case your hacker space to the global DIY community, view and interact with other hackerspaces, collaborate across projects & find people and tools in your region. Come to our demo to learn more about all the things we do and get some of our awesome stickers!
We are also proud translators of the OSHW definition,  supporters of the global TEDx community and initiators of the hacker-space-in-a-box project (more info will be provided during the summit).
Mind the scrap, love DIY!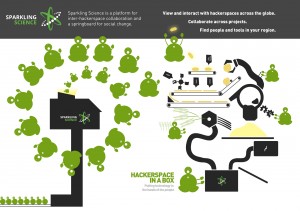 About Carl Bärstad & Abhinit Ambastha
Carl Bärstad, CEO & co-founder
Science communicator, surfer, wannabe maker & TEDx organizer with a recently emerged passion for DIY Science. Wrote his master thesis in engineering on 
Communicating Science
 and the relations between research and media. Believes in the strive for knowledge as the ultimate virtue. Big idols: Carl Sagan & Richard Feynman.
Abhinit Ambastha, CTO & co-founder
Hacker to his bones and a regular hackathon attendee. Last year student in health informatics at 
Karolinska Institutet 
(Stockholm). Advocate of mobile health and zero-cost diagnostic. Believes in technology as a liberating force for good. Been coding all-things-web since the age of 12.